Polling for Meetings
The polling feature for meetings allows you to create single choice or multiple choice polling questions for your meetings. You will be able to launch the poll during your meeting and gather the responses from your attendees. You also have the ability to download a report of polling after the meeting. Polls can also be conducted anonymously, if you do not wish to collect participant information with the poll results. Polling can be enabled for your own meetings using below steps.
Sign in to Zoom web portal using the instructions given in the tutorial here. Once signed into Zoom click on the Settings menu on the left pane to enable the polling. There will three tabs and you need to go to the Meeting tab. On the Meeting tab, navigate to the Polling option under In-Meeting (Basic) section and turn on the status toggle to enable the polling.

To create a poll go the scheduled meeting page and scroll to the bottom to find the Poll option. Click Add to create the poll.

Give a poll name and enter the question. You can check the box to make the poll anonymous, which will keep the participant's polling information anonymous in the meeting and in the reports. Then elect whether you want the question to be single choice or multiple choice question. Then type the answers. You can keep adding up to 25 questions.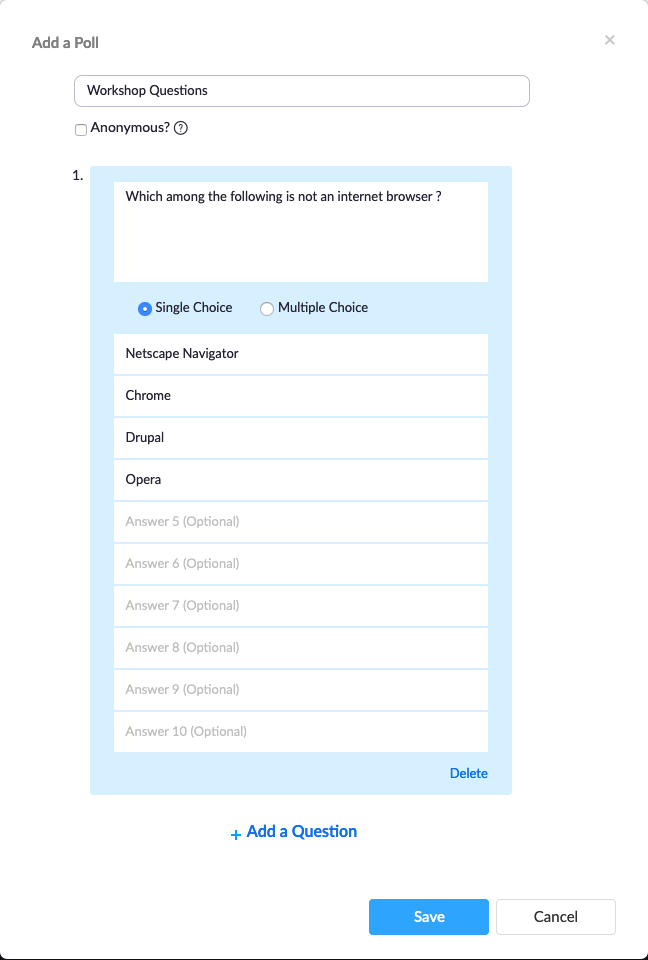 Once you start the meeting, Polling option will be visible on the bottom menu shown as Polls. Click the Polls and Select the poll you would like to launch from the drop down list at top of the window.

Click on the Launch Polling.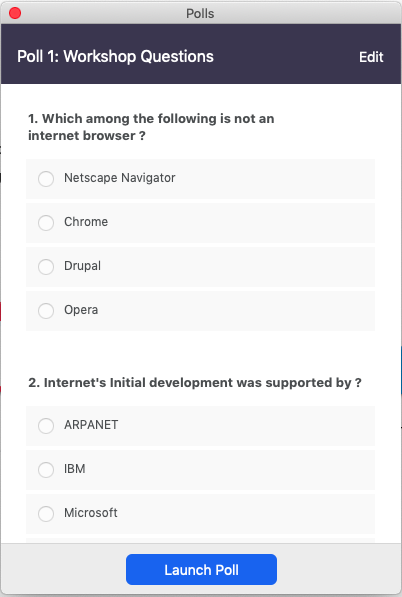 At the same time attendants will see the poll.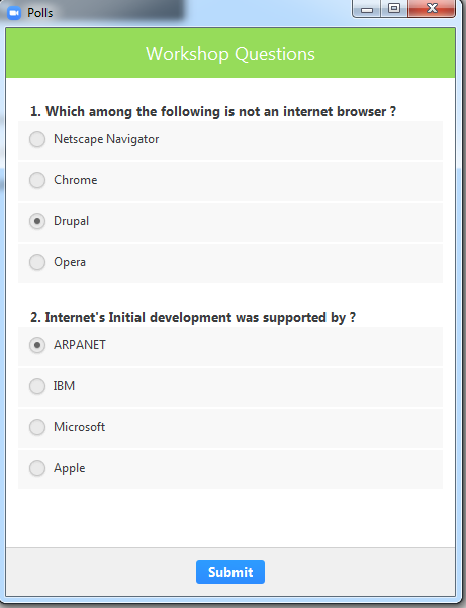 While the polling is progress Host can see the live status of the polling in the Polls window. Once the polling is complete if you would like to share the results to the participants in the meeting, click Share Results.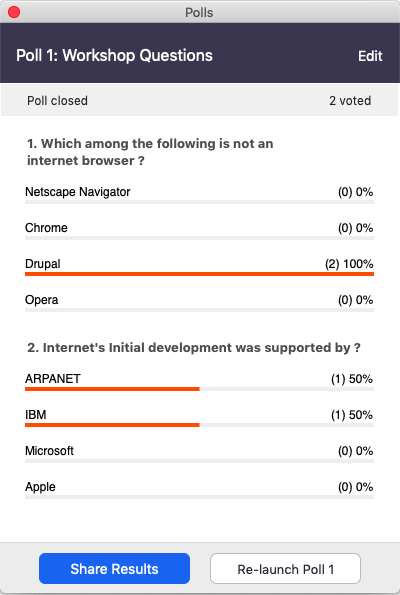 You can download a report of the poll results after the meeting. Login to Zoom web portal and then go to Reports. There will three types reports of under the Usage Reports and click on the Meeting. There will be two tabs and select the Meeting Report tab. Then choose the option Poll Report as report type. Adjust the date range and click search. Then select the report and click generate to get the report for your poll.

This will take you to the Report Queue page and from there you may download the report in CSV format.

Attachments
(9)
Download all attachments as: .zip