Closed Captioning
Closed captioning allows you or another meeting attendee, assigned by the host, to add closed captioning in a meeting. In a webinar, closed captioning can be typed by the host, co-host, or a panelist assigned by the host. You can type the closed captions directly via Zoom or you can integrate a third party service.
Closed Captioning can be enabled for your own meetings using below steps.
Login to Zoom web portal. Then click on Settings menu from the left pane. On the Meeting tab, navigate to the Closed Caption option under In-Meeting (Advanced) and turn on the status toggle.

Once enabled the above option when you are in the meeting you will be shown Closed Caption option.

Select if you will type the Closed Captions, if you would like to assign someone to type or if you are using a Third Party provider.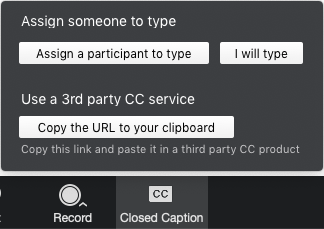 For now select the I will type option and pop up window will appear to type Closed Captions.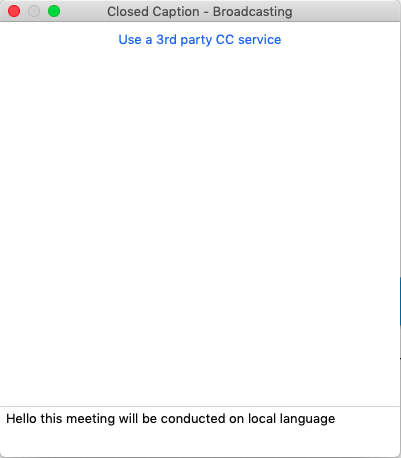 Once above window opens a Closed Caption option will appear in the remote attendants application menu too.

Participants may click on the Closed Caption option to view the text typed by the host.

Same way Closed Caption can be typed by a participant assigned by the host. To do this open the participant window select the participant and choose Assign to Type Closed Caption.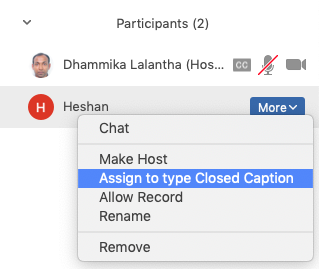 Above will pop up a window as shown below on the Zoom application of the participant.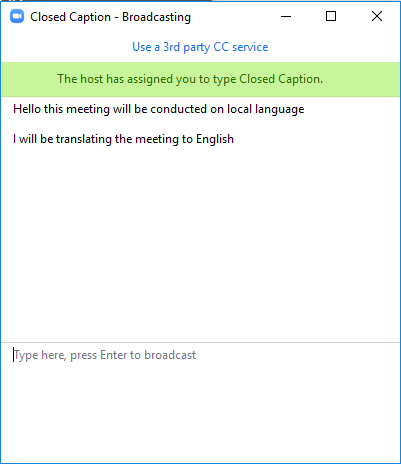 Similar the way host assigned the Closed Caption to a participant, the host can withdraw Closed Caption permission from him/her self.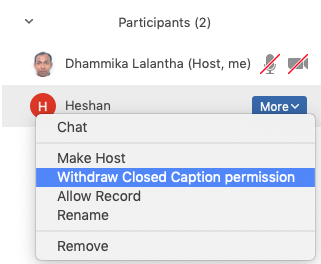 Attachments
(9)
Download all attachments as: .zip